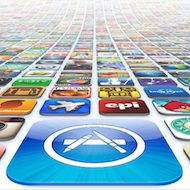 iTunes App Ranking
An Appetite for Success
Much like using SEO for improved website visibility, a higher ranking in the iTunes App Store is fundamental to accelerating the business growth of any mobile application. With over 1,000 apps being launched every day, achieving a high iTunes ranking is a real challenge for many companies.
Your company may have created an amazing app that everyone's going to love but without investing in an effective ranking and promotional strategy, it will simply get drowned out by the competition.
Digital Soul has solid expertise in iTunes app searches and ranking; we provide the analysis, research and testing to deliver the best possible approach at specific times which score highest on the app store. Our strategies include:
App Store Optimisation: developing and tagging the app with the most effective keywords is vital in getting the product higher up the ranking list.
Competitor Tracking: analysis of the keywords that competitors are focusing on provides our clients with a competitive edge.
Ratings & Reviews: we offer guidance on how positive user feedback can significantly increase download traffic.
Paid-For Installs: if the budget is there, we offer the best campaign advice to help your app climb the rankings.
Our ranking services provide a great way to improve and keep track of your app's performance on the world's most visible app store interface.
The Digital Soul team can also consult with and help smaller or independent developers to compete with the big boys by following our simple, low-cost, yet highly-effective iTunes ranking strategies.