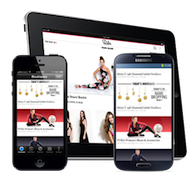 Mobile Web Development
Enter the Mobile Age
As the number of mobile devices – smart phones and tablets – purchased worldwide looks set to surpass that of laptops and PCs, there is an urgent and growing requirement for businesses to evolve their traditional website resource and enter the mobile age.
The internet has gone mobile big time, and so should your business. The trend to access content online to shop, chat and play shows no signs of slowing and the diversity of mobile devices, platforms, and environments throws up questions of how companies best manage their on-the-go strategies.
Put simply, there isn't a one-size-fits-all solution to creating a mobile web proposition that works across any mobile device. That's why at Digital Soul, we help companies build and optimize their website and content to deliver the most effective, mobile solution across each relevant mobile device.
Adaptive Development
Digital Soul is a mobile developer focused on iOS, Android and HTML5 platforms and mobile devices. We offer Adaptive mobile web development and layouts for brands which need content displayed in a consistent and uniform manner across all devices and screen sizes, but don't require advanced mobile features.
Adaptive mobile layouts are perfect for content-based websites (e.g. blogs) which experience relatively light user interaction and don't need device-native features (e.g. camera/GPS etc.) or offline capability support. Digital Soul employs industry-coding technologies which allow webpages to adjust to the resolution of a mobile screen automatically. This eliminates the need for constant zooming and scrolling and provides the optimal browsing experience for your customers.
Mobile Functionality
For online sites currently experiencing higher levels of user interaction and which require specific mobile functionality, Digital Soul would design and develop a dedicated mobile site. This has significant advantages as it addresses challenges unique to mobile web integration such as site visibility, load times, navigation and data entry. This mobile functionality ensures a seamless experience for your mobile customers.
Equally, if there is an expectation for visitors to purchase, add personal information or engage other users on the mobile site, then a dedicated mobile site is paramount.
Real Commercial Results
The right mobile option for your business is not always apparent immediately and at Digital Soul, we take great care in helping you build a mobile platform which delivers your commercial goals. Typically, we see double-digit uplift in visitor traffic, which is attributable directly to company mobile sites.